Welcome To Santaji Mahavidyalaya, Nagpur
Santaji Mahavidyalaya, run by Shri Santaji Shikshan Vikas Sanstha, Nagpur was founded in June, 1971 and has been included in the list of University Grants Commission under 2F and 12 B. The college has been accredited and assessed by the National Assessment and Accreditation Council, Bangalore thrice. The college has been awarded "A" Grade by the NAAC. At junior college level there are Arts, Commerce, Science and MCVC streams. At senior college there are Arts, Commerce, Commerce (Computer Application), Science and Management streams. There are six Under Graduate and two Post Graduate programmes. Over the years, Santaji Mahavidyalya has been growing from strength to strength by introduction of new courses, thoughtful expansion of the campus, having well qualified and experienced teaching faculty, timely enhancement and enrichment of the faculty and addition of newer instruments/equipments and facilities for the stakeholders under the youthful and able guidance of Hon. Shri Dinesh G. Wanjari, President, Shri Santaji Shikshan Vikas Sanstha. Today, it is the Recognized Centre of Higher Learning and Research in English and Commerce. The progress of this institute is attributed to Ex-President Late Shri Govindraoji Wanjari.
---
Our Source of Inspiration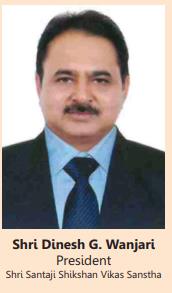 Santaji Mahavidyalaya, Nagpur is a student-centric institution. All the curricular and extracurricular activities undertaken at the college aim to inspire the students to excel in academics and other areas of specialization.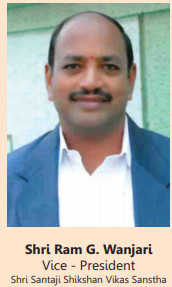 The most commendable and remarkable feature is that that the college works unitedly as an enthusiastic team of students and faculty members who are focused to strive for the betterment of the institution.
---