Research Ethics and Research by Faculty
Research Center Details
Santaji Mahavidyalaya is recognized as a Place of Higher Learning and Research by RTM Nagpur University, Nagpur in the following Subjects
| Sr. No. | Subject |
| --- | --- |
| 1 | English |
| 2 | Commerce |
---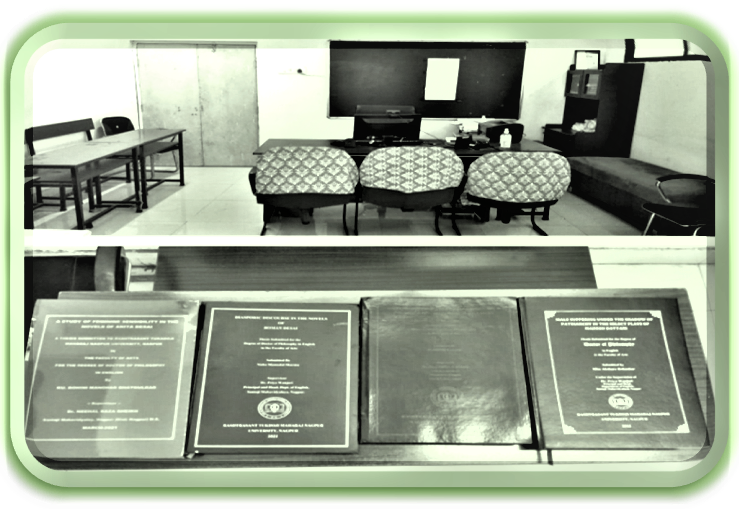 Research Ethics
1. Research Work must be original
2. Abstain from Plagiarism
3. Research Work must be beneficial to the society and all
4. Research Work ought to be Result oriented.
5. Acknowledge those whom you are quoting.
6. Research work must develop fresh approaches and aspects.
7. Research work must manifest CREATIVITY and NOVELTY of Ideas.
8. Keep away from any kind of Malpractices.
9. Keep an updated knowledge about the format of an ideal research paper or assignment.
10. Conscience in Research work must be kept alive.
---
Visits
Visiting Committee constituted by RTM Nagpur University for granting Renewal to Place of Higher Learning and Research at the college for the Departments of English and Commerce (including Commerce, Business Economics, Accounts and Statistics and Business Administration and Business Management) will visit the college on 25th February, 2022
Research by Faculty
Name
Research Topic
Dr. Priya D. Wanjari
Critical analysis of the novels of Shobha De
Dr.Neehal R. Sheikh
Eco-critical study of the Works of Nirad C. Chaudhary
Dr.Sunil Ramteke
From Being to Becoming : A Comparative study of Dalit Male and Female Protogonists
Dr. Aparna Ambekar
An analytical study of marketing strategies adopted by"BEML"in Nagpur Region
Dr Swati Wakode
Marathi wangmayatil vyakti Chitrancha chikitsak abhyas. 1950 -2000
Dr. Neeraj Haridas
Study of electrical and other properties of polyvinyl chloride(PVC), polymethyl methacrylate(PMMA) and polypyrrole
Dr.Sudhir.M. Godghate
Nagpur zilla parisheditil karmacharchha samajik ani arthik stitiche vishleshnatak adayan
Dr. Shrikant M Sontakke
Nagpurkar Bhosale – Nizam Relation( 1730 – 1802 )
Dr. Sudha Ramachandra
Molecular Docking Studies of CYP Enzymes Polymorphsim for Drug Discovery Process using Genetic Algorithm
Dr. Priya Dhote
In – vitro phytochemical activity of some anitidiabetic plants
Dr. Rajita A. Lonare
Influence of herbicide on cytomorphology of weed Malachra capitata Lin.
Dr. Mansha R. Jaiswal
Studies on membranes of some biologically important materials
Dr. Shrikant R. Pajankar
Nagpur Jihlyatil mudran veavchayache vavathapan aani samajik van aarthik samsayancha
Dr Prachi Avinash Rode
Maharashtratil Reshim Udhyogachi Saddhyasthiti ani Bhavitavya.
(Recent condition and Future of Sericulture Industry in Maharashtra).
Dr. Suraj R. Mathane
Synthesis and Characterization of polymers based on glycerol and polyethylene glycols
Dr. Geeta R. Ambatkar
Nagpur Zilyatil Gramin ani Shahari Bhagatil Kishorawastetil 14 te 17 vayogatatil mula mulinche vyakti matwa gunvishesh waadhyadharipana yanche tulanatmak adhhyayan.
Dr. Rekha Gaurkar
Annual studies on the haematological characteristics with special reference to blood cell abnormalities in a great false vampire bat, Megaderma lyra lyra
Dr.Sanjay J. Khalatkar
"Effect of pranayama on memory and intelligence of school children"
Dr. Vanita Vijay Naskulwar
Saundarya Prasadhan Vyavsayache Swaroopa Samsyanche Vishleshanatmak Adhyayan
Dr. Usha Rajendra Pillewar
Evaluation of various depreciation methods and their effect on profitability with special reference to International Financial Reporting Standards on profitability with special (IFRS )